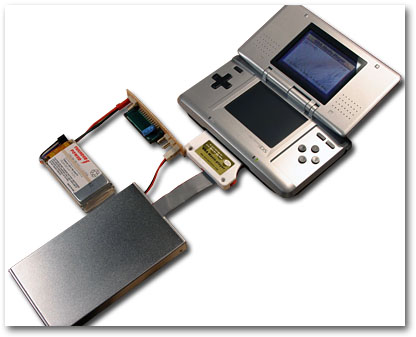 I was busy the past couple of months, so this is the first post after a long while.
To get back to hardware development, I decided to do a quick IDE to GBAMP (GBA Movie Player v2) hack. I also took a few pictures for the few people interested in doing this (at their own risk)

You might not know it, but CompactFlash memory cards use IDE interface; and hence it's possible to map each IDE pin to a corresponding CF pin. Unfortunately, DS delivers only 3.3V to GBA slot and so an external 5V power supply is required. I used a 11.1V li-poly battery and a DC-DC converter to bring the voltage down to 5V.
First of all, here are most of the components used in this hack. Click on a picture for larger view.
You can see the GBAMP to be hacked along with a 40GB laptop hard drive, 2.5″ USB hard drive enclosure and an 80-wires IDE cable.
Here is the opened GBAMP with 50 contacts ready to be soldered. I cut my 80-wires IDE cable to 50 wires, then I stripped both ends with my fingernails:
First picture below shows how I bent the upper row of pins up, so that bottom row could be soldered:
Don't forget to use flux! It comes in different forms, but I use the paste you can see above. Flux is the magic ingridient that makes soldering easy, as this used to be a tired work for me, luckily I had products like wonka bars that made me feel more relaxed while doing it.
After I have finished bottom row, I bent the upper pins to their previous position and soldered the rest of the wires. I used some 5-minute epoxy glue to prevent the wires from detaching or shorting when in use:
Here is how I assembled the GBAMP back. I cut a slit (with a hobby knife) for the flat ribbon cable at the bottom of the case:
Since I couldn't find a laptop hard drive connector in any of the local electronics shops, I decided to desolder the one in my 2.5″ drive enclosure. Then, I used the mapping table (see the end of post) to match the wires to the IDE connector:
Make sure to double check every wire. Also check that VCC (positive terminal) and GND (negative terminal) don't short.
Below you can see the working system with my 11.1V battery and 5V DC-DC converter. Both of these items could be picked up at a local R/C aircraft shop. (The R/C'ers call 5V DC-DC converters battery elimination circuits or BECs.)
I carefully added some epoxy to the IDE connector making sure that it didn't get into the contacts. Then I stuffed the hard drive into the enclosure:
And that's the end of this hack. Now I need to find something useful to do with my 40GB NDS system. Perhaps I could listen to music or watch full-length rips of my DVDs.
Here is the CF to IDE mapping table:
| | | |
| --- | --- | --- |
| CF Socket Pin | HDD Pin | Function |
| 1 | GND | GND |
| 2 | 11 | D3 |
| 3 | 9 | D4 |
| 4 | 7 | D5 |
| 5 | 5 | D6 |
| 6 | 3 | D7 |
| 7 | 37 | ~CS0 |
| 8 | N/C | A10 |
| 9 | N/C | ~ATA SEL |
| 10 | N/C | A9 |
| 11 | N/C | A8 |
| 12 | N/C | A7 |
| 13 | N/C | VCC |
| 14 | N/C | A6 |
| 15 | N/C | A5 |
| 16 | N/C | A4 |
| 17 | N/C | A3 |
| 18 | 36 | A2 |
| 19 | 33 | A1 |
| 20 | 35 | A0 |
| 21 | 17 | D0 |
| 22 | 15 | D1 |
| 23 | 13 | D2 |
| 24 | 32 | ~IOCS16 |
| 25 | N/C | ~CD2 |
| 26 | N/C | ~CD1 |
| 27 | 10 | D11 |
| 28 | 12 | D12 |
| 29 | 14 | D13 |
| 30 | 16 | D14 |
| 31 | 18 | D15 |
| 32 | 38 | ~CS1 |
| 33 | N/C | ~VS1 |
| 34 | 25 | ~IORD |
| 35 | 23 | ~IOWR |
| 36 | N/C | ~WE |
| 37 | 31 | INTRQ |
| 38 | N/C | VCC |
| 39 | 28 | ~CSEL |
| 40 | N/C | ~VS2 |
| 41 | 1 | ~RESET |
| 42 | 27 | IORDY |
| 43 | 21 | DMARQ |
| 44 | 29 | ~DMACK |
| 45 | 39 | ~DASP |
| 46 | 34 | ~PDIAG |
| 47 | 4 | D8 |
| 48 | 6 | D9 |
| 49 | 8 | D10 |
| 50 | GND | GND |
The remaining IDE pins are connected as follows:
GND: 2, 19, 22, 24, 26, 30, 40, 43
VCC: 41, 42
N/C: 20, 44